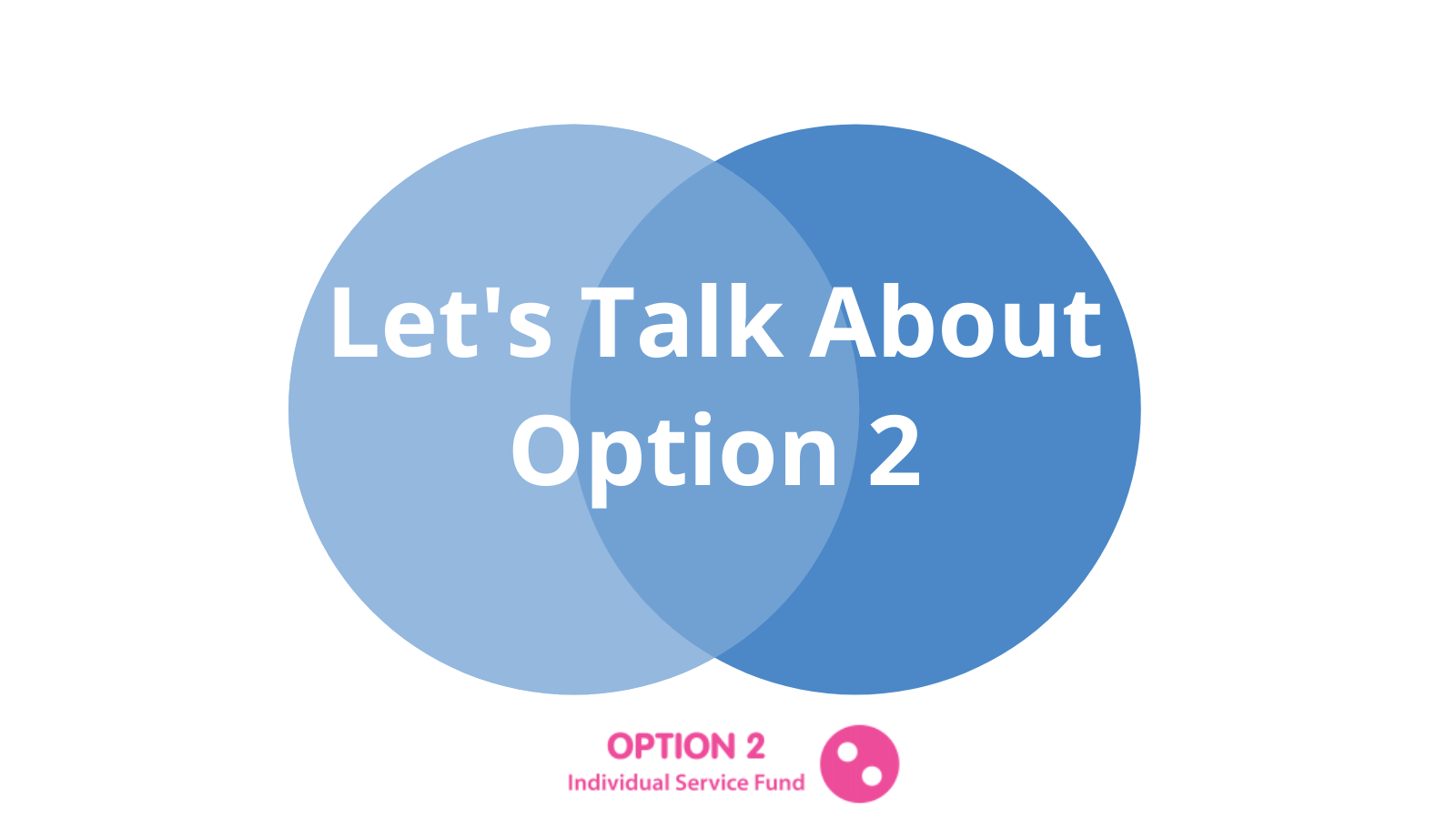 Let's Talk About Option 2
ISF Coordinator, Sarah Unigwe, explores the role of Individual Service Funds (option 2) in self-directed support and explains why we shouldn't forget about option 2.
As an ISF coordinator, I deal with all things option 2. Often overlooked, this option provides individuals with choice and control over their support without managing their care budget themselves. It can sometimes be confusing trying to understand what this all means, but my job is to help you on your journey.
Understanding Option 2
Let's look at what option 2 is and what it could mean for somebody who receives care and support.
Self-directed support is all about how your care is organised and managed. In the past, your care and support would have been handled and organised by a social work practitioner. Now, you have four distinct options to organise and manage your care, with choice and control being at the centre of your support package. Option 2 is the second way that you can organise your care through self-directed support, and this is also sometimes referred to as an 'Individual Service Fund'. 
Option 2 enables you to choose how your care budget is spent, but the money is managed by somebody else. This gives you choice and control over your support without having to worry about managing any funds. The financial side of your support package will be organised by what is known as an Individual Service Fund provider.
An Individual Service Fund provider is a third-party organisation who manages your budget on your behalf. For example, if you would like to purchase support from a care agency, your ISF provider would handle the invoices and payments for your support directly with the agency.
I have supported many people to achieve some fantastic things through making the most of option 2. It sometimes flies under the radar but is a really great option for those who don't want to or cannot manage the finances of a care package.
In summary, option 2 means that you choose and organise the type of care or support you would like but pass your care budget (the money used to pay for your care or support) on to an external provider who handles the payments for your support on your behalf.
A Creative Option
When it comes to organising your support, option 2 opens up a world of possibilities and can be used creatively to meet your support outcomes. An 'outcome' is something you want to achieve as part of your support package that will help to make a positive impact on your life. It could be to learn how to swim, manage your finances or to live independently.
Let's explore how you might use option 2 to meet an outcome. 
Jennifer* has a learning disability and requires care and support; her outcomes are to 'build new relationships' and to 'have things to do'. Jennifer's support worker finds out that she loves to knit when discussing her outcomes and hopes for her support package. After learning about her options through self-directed support, Jennifer decides to use option 2.

Using her support budget, she decides to join a local knitting group and purchase new knitting needles. This has enabled Jennifer to build new relationships and pick back up a much-loved hobby. While attending her weekly class, Jennifer doesn't need to worry about handling any funds as her ISF provider organises the money required to pay for the group. This enables Jennifer to meet her outcomes and has had a positive effect on her confidence and mental health.
The great thing about option 2 is that no matter the situation or level of support required; the financial side of the package is never a worry. From yoga to flower arranging to traditional care and support, option 2 gives the opportunity to find new and personalised ways to meet outcomes and goals. In my time as ISF Co-Ordinator at Cornerstone SDS, I have seen many great examples of option 2 being used in a creative and alternative way.
Caring for Carers
The introduction of the Carers Act (2016) and Young Carers Statement's means that unpaid carers have the right to a carer support plan. As a result, I have seen an influx of carers choosing to organise ongoing support through option 2. This is the perfect option for carers looking for respite and support without adding the additional stress of managing the financial side of their care budget.
A small budget can go a really long way for a carers package and make a big difference in their day-to-day lives. Rather than choosing traditional respite, I have supported carers to take time for themselves using holistic support such as counselling, gym memberships and even hairdressers' appointments.
What does an ISF Co-Ordinator do?
As an ISF Co-Ordinator at Cornerstone SDS, my role is to help coordinate option 2 packages, using identified outcomes to source activities, products, or providers to help those outcomes be met.
I work with supported individuals and liaise on their behalf with the local authority and service providers. Whether it's resourcing new services, assisting with service management, attending reviews or budget discussions, I support individuals throughout the entirety of their support package.
Sounds interesting, where do I find out more information?
If you have any questions about option 2 and what it could mean for your support, please get in contact, I'd love to hear from you.
Email: Sarah.Unigwe@cornerstonesds.org.uk
Phone: 07974 184 267